Who was here is 2018?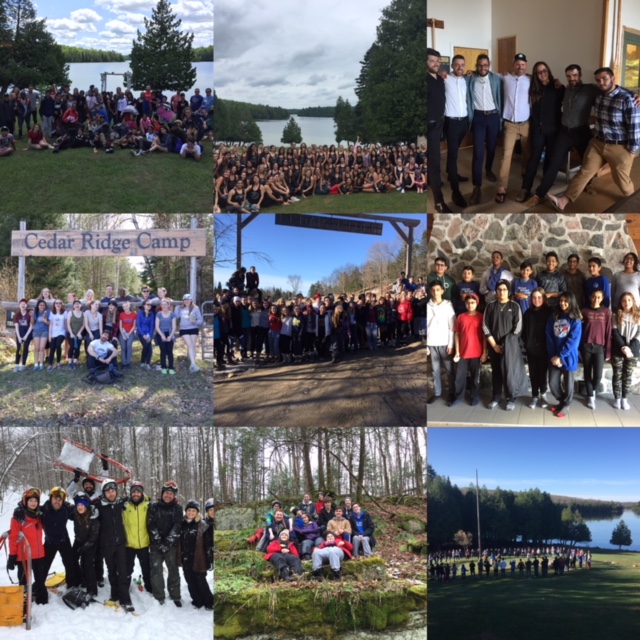 Who Was Here In 2018?
The 2018 Cedar Ridge Camp Season was filled with many fun-filled moments, growth and memories. It was our largest season yet, filled with a variety of different schools and groups. All in all, camp saw more than 3,526 people this season.  During the winter, spring, and fall, we saw schools and groups from across Ontario. These groups each came to Cedar Ridge with a specific goal or purpose including: outdoor education, adventure recreation, leadership, wellness, self-development and religious retreats. We also had 4 amazing couples who started a new adventure by having their weddings with us.
During our summer, the majority of our campership joined us from the Toronto, Ottawa and Quebec area. We also had a large international community join us, bringing in people from France, Spain, Mexico, The United-Stated, Brazil, Japan, and a group of LITs from Taiwan.
We are so thankful to have such an incredible community and schools, groups and campers and can't wait to see everyone back at camp in 2019.
Here is a list of all our amazing schools and groups from 2018:
Alive Outdoors
Allan Drive Middle School
AMICI Charity
Andy's Rendezvous
R.S Arminian School
Aylesbury Public School
Beatty Fleming Sr. Public School
Benjaman Locke & Elizabeth Nenniger's Wedding
Holland Bloorview Kids Rehabilitation Hospital
Camp Awakening Leadership Camp
Camp BUCKO, Staff Training Weekend & Family Camp
Camp Micha
Cedar Ridge Campers
Christ Almighty Baptist Church
Le College Francais
Derek Lord & Jessica McRandall's Wedding
Dolson Public School
Camp Dreamwood
Eastern Canadian Chinese Catholic Living Camp
Great Lakes Christian High School
Grimsby Secondary School
Hunters
Kawthar Learning Circle
Kids in Camp Charity
Cedar Ridge Luge Weekend
Muslim Association of Canada- Camp Awakening
Mel & Danny's Luge Weekend
Mike Wanless & Taylor Smith's Wedding
North Hastings Community Integrations Association
Parkinson Centennial Public School
The Phillip Family
Queens University Outdoors Club
Rachel Ward & Jet Black's Wedding
RAW Weekend
Ross Drive Public School
S. McLaughlin CVI
Rustic Mama Retreats
Student Christian Movement Canada- Cahoots Festival
Sir William Gage Middle School
Sir Winston Churchill Secondary School
Sunny View Public School
University of Toronto School
William G. Davis Sr Public School
Camp Wangoma Reunion Weekend
Wilderness Canoe Association
Williams Parkway Sr Public School