Summer Camp Safety Plan 2022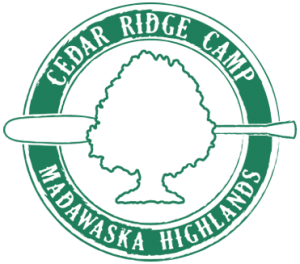 Summer Camp Safety Plan 2022
Introduction:
Cedar Ridge Camp continues to carefully and cautiously navigate toward the return of Summer Camp in 2022. We continue to work with public health to develop operating protocols that reflect the current state of the pandemic. These protocols are developed with the health and safety of our participants, staff, and local community at the forefront. Please note that our response plan is a living document and will be adapted to suit the current conditions of the pandemic. Any changes or updates to our protocols will be communicated to our campers and families.
In 2021, Cedar Ridge Camp successfully operated as a Group Retreat Center and Summer Camp while following the protocols of the Ministry of Health. As of March 21st, 2022, summer camps are no longer required to follow the COVID-19 Safety Guidelines for Camp and are free to establish their own safety protocols. Although we are excited for the path back to normal, we feel that many COVID-19 protocols still need to be implemented to help maintain the health and safety of our Campers and Staff. This document outlines our summer 2022 COVID-19 protocols. We feel that these protocols will provide added protection from COVID-19 without taking away from your child's camp experience. If you have any questions about our COVID-19 protocols, please feel free to contact us anytime.
2022 Summer Camp Protocols:
We are excited to be welcoming Campers back to Cedar Ridge this summer, but understand the great importance of keeping our guests, staff, and community safe.  Below you will find some key points to our COVID Response Plan:
To implement screening & testing protocols to minimize the risk of COVID-19 entering camp.

To follow the latest public health recommendations for vaccinations status and health practices to minimize the risk of community spread while at camp.

To increase our onsite sanitation and cleaning procedures.

To offer programs and activities outside, where the likelihood of community spread is minimal.

To establish procedures for symptomatic campers and for potential onsite COVID-19 cases.
Pre-Arrival & Screening:
Prior to arrival, all campers must complete Cedar Ridge Camp's Camper screening and agreement form. Before arriving on-site, a self-assessment for symptoms of COVID-19 must be completed. If you are experiencing any of the symptoms on the checklist, please stay at home and contact the Cedar Ridge Office. In the days leading up to camp, we ask that you reduce any high-risk social interactions as much as possible and strictly adhere to the current public health guidelines and recommendations.
Rapid Testing:
Rapid testing is a great defence to minimize the potential of COVID-19 entering camp. Before arrival, we require all campers and staff to take a rapid test. To simplify this process we will request that parents or guardians administer this rapid test at home the morning of departure. Upon arrival at camp or the bus, we will require campers to have a picture of a negative rapid test along with the date and time that the test was taken. For parents who do not have access to rapid tests, one can be provided and administered upon arrival. Rapids test may also be used to test symptomatic campers or a camper who might be considered a close contact.  
Vaccinations:
We continue to follow the latest guidance from Public Health on vaccine status for our campers and staff. All Cedar Ridge Staff and international campers will be required to be fully vaccinated. In addition, we strongly recommend that all of our campers be fully vaccinated. However, we do understand that due to age restrictions and medical conditions some campers may not have the opportunity to be fully vaccinated. Cedar Ridge Camp will require every camper to disclose their vaccination status on their screening form, but at this time will not require all campers to be vaccinated. We implement these protocols with the understanding that the vast majority of our camp population is currently fully vaccinated. Any individual (e.g., staff, guest, contractor, or occasional worker) who is not vaccinated or has an unknown status will be required to take a rapid test upon arrival and adhere to enhanced restrictions, including masking in all indoor public spaces and frequent rapid testing. Please note that our vaccination policies are subject to change based on the current state of the pandemic (e.g. new variants, increased community speared, recommended number of doses).  Any changes to these protocols will be communicated to our campers and families. 
Masking:
Masks provide added protection from not only from COVID-19, but other airborne viruses. For this reason, Cedar Ridge Camp will continue to have masks as a mandatory part of the packing list. For campers, wearing a mask will be optional in any outdoor spaces as well as indoor shared spaces. Campers will only be required to wear masks if they become symptomatic or deemed a close contact with someone who is systematic or tests positive. Visitors with an undisclosed vaccination status will be required to wear masks in all indoor public spaces. Cedar Ridge Camp will continue to follow the latest masking guidance from public health and make changes to our masking policy as needed.
Response Plan for Symptomatic Campers and Staff:
If a camper starts to show signs or symptoms of COVID-19, they will be immediately isolated in a designated cabin and have access to a designated washroom. Once isolated, the Cedar Ridge Camp medical team, will determine if the symptoms are a potential sign of COVID-19 or if it is a symptom of a pre-existing condition. A rapid antigen test will be administered by the Cedar Ridge Staff. In the case of a positive test result, the camper will be taken to the nearest location for a PCR test, if available. Due to the long isolation period, campers who test positive for COVID-19 will be required to leave camp. 
Sanitation and Cleaning:
Cedar Ridge Camp has created a number of sanitation stations throughout the camp. Hand sanitizer can be found at the entrance of every building and at each activity area. Cedar Ridge Camp has also created protocols to: 
Increase the frequency of cleaning/disinfection of washrooms.

Ensure the continued availability of all equipment necessary for hygiene measures (soap, water, hand sanitizer, paper towel, tissues, and toilet paper).

Post signage of hygiene best practices in public washrooms.

Clean/disinfect all frequently touched surfaces (light switches, doorknobs, stall locks, toilet handles, sinks, etc.).

Ensure an adequate supply of hand sanitizer and toilet paper for outhouses and frequently disinfect doorknobs and toilet seats.
If you have any questions or would like to inquire about our latest COVID-19 protocols, please feel free to contact us anytime at 613-332-6675 or info@cedarridgecamp.ca