The CRCRC Challenge
The CRCRC Challenge
By: Ross A. Halfyard – Boys' Section Director, 2018-2019
The Challenge (ScotiaBank Marathon October 20th 2020)
Have you ever thought about running a 5km, half marathon or full Marathon? On October 20, 2019, nine current and former Cedar Ridge Staff took to the streets of Toronto to run the ScotiaBank Half Marathon and we would like to extend the challenge to you for 2020. Whether you are a seasoned marathoner or a beginner, we would love for you to join our team. CRCRC (Cedar Ridge Camp Run Club) members will receive a Cedar Ridge Running Club singlet and training program from Steven "Seamus" Walter. Steven is a former staff member, accomplished runner and run coach at Ryerson University. While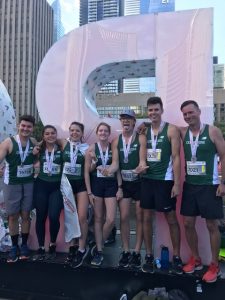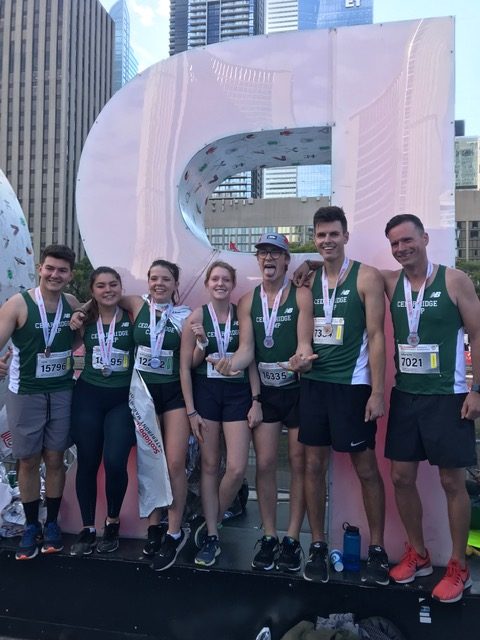 maintaining social distancing, running is a great way to get outside, improve health and now is the time to do it.
While we all will be training to achieve individual goals, together the CRCRC will be working to send under privileged kids to camp in 2021. Camp is a precious gift to many of us, but often remains out of reach for some. Working with Amici Camping Charity and Kids In Camp, CRCRC wants to raise as much money as possible so more campers can experience camp. All funds raised will be pooled together, so there is no minimum goal or need to start now. All you need to do is start running, 1km at a time.
If you want to accept the challenge, or would like some more information, please e-mail grayson@cedarridgecamp.ca.
The Story of the CRCRC by Ross Halfyard
Running has been a part of my life for longer than I can remember and is the reason that I am here today. My parents met through a running group and have countless photos of me ready to race, running with a bib number for the first time at the ripe old age of three. The passion my parents have for running, has passed through them to me and remained strong through the years. That passion kept me running over the years, even when getting up early at the start of a long camp day. It also lead me to spearhead an idea that Grayson and I shared, albeit, on a run.
With the hopes of exploring camp while helping campers get more fit and have fun, I decided to push that conversation forward. Our pilot run took place with staff and L.I.T.s during Pre-Camp. This week is spent training staff in emergency preparedness and conflict management, but also to fire up the spirits and get camp songs flowing through the mind. What better way to do that than on a jovial run with friends? Following the first run, we had a committed, excited group of staff. Born from that experience was the Cedar Ridge Camp Run Club (or CRCRC). That energy and passion transitioned beautifully to the group of campers that first arrived and stayed right until the end of the August session. Our largest day saw almost 20 runners join in, with upwards of 40 individuals giving CRCRC at least a chance. Stemming from one conversation on one run, CRCRC has blossomed into a large group of driven, passionate individuals.
The stage was set. The hills at camp had toughened us and filled our lungs to maximum capacity, while the soft surfaces kept our legs feeling fresh. Nine current or former staff members took on the challenge of the Scotiabank Toronto Waterfront Half Marathon, cheered on by the Cedar Ridge community. After each of the nine runners finished an awesome race, we realized we had more than just a running club; we had started a movement. With that movement in place, we knew we needed to do more. For that reason, Cedar Ridge Camp Run Club wants to extend that challenge to YOU. See you on the road.
This does not stop with our campers! We would love to see all kinds of friends and family out running. Though we will be working with campers during the summer, the knowledge and skills they develop will come home with them. If you are a well-seasoned marathoner or brand new to the sport, we have space on our team for you! Our hope is to see as many folks out as possible. The weekend has options starting with a family-friendly 5k all the way up to the marathon and includes the CRCRC favourite: the half marathon. That brings us to the question: DO YOU HAVE IT IN YOU?